2019 Park Advisory Council Conference Presentations Now Live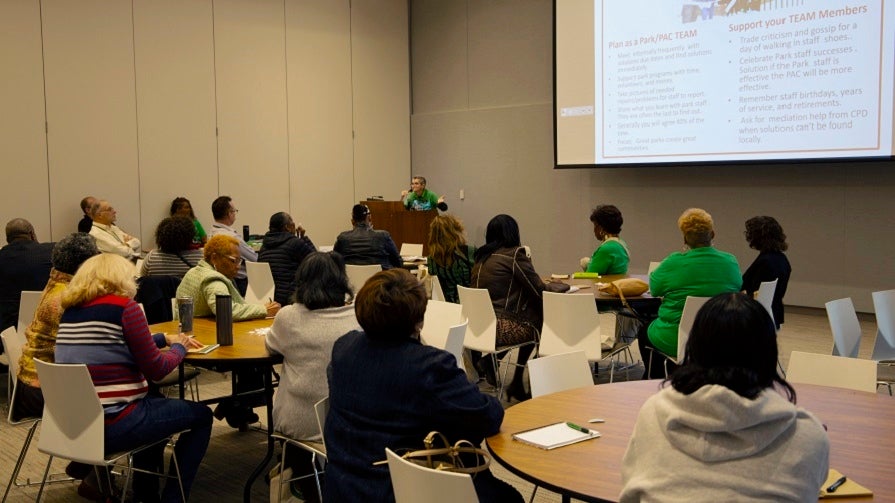 This year, the annual Chicago Park District Park Advisory Council (PAC) Conference was held on March 30 at Malcolm X College. More than 300 attendees from across Chicago attended the event. Throughout the day, Chicago Park District staff and PAC leaders presented many resources and interacted with current and future park volunteers. With the help of a parks volunteer, our research team recorded a selection of the presentations including:
Creating Safe Places in Play Spaces
How to Get a Sponsor
PAC 101
How to Run an Effective Meeting
Money 101
The Special Event Checklist
Working with your Elected Officials
To view these recorded sessions click here.
To see the current PAC online training modules, which teach individuals how to form and manage a PAC, visit the Illinois PRC Parks page.
Interested in joining a PAC at your local park? Visit the Chicago Park District PAC page.
About the Banner Image.  Louise McCurry, Jackson PAC President, presents "PAC 101".
ABOUT THE AUTHOR
Although Yadira is the newest addition to the Parks Project, she is quite familiar with Chicago Parks and has participated in various park programs such as dance, swimming, and volleyball for nearly 20 years.
Modified on November 17, 2020