Chicago Public Schools Parent Engagement in Health and Wellness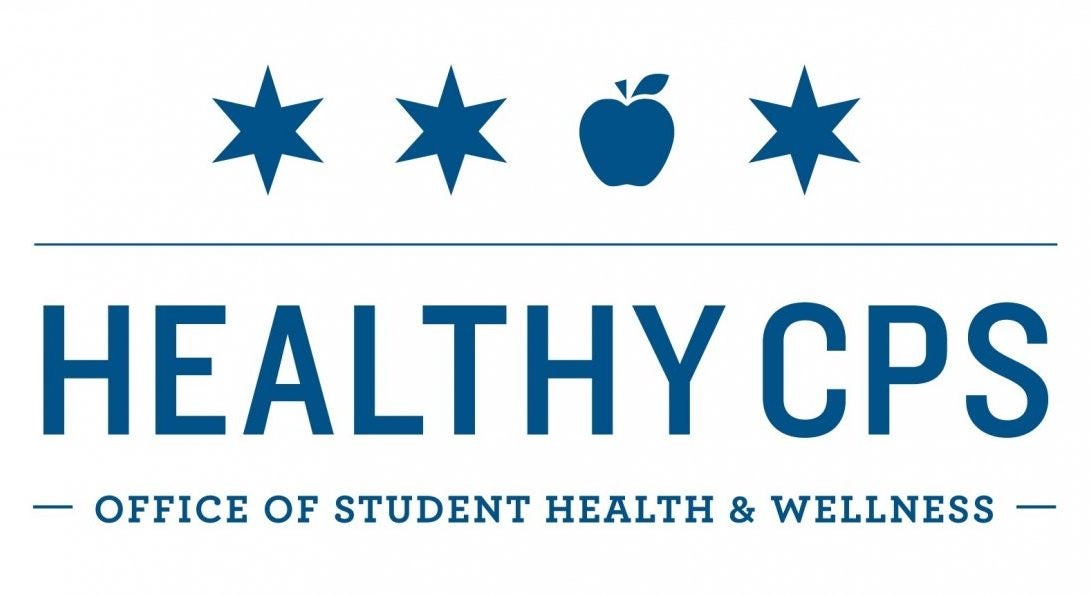 A great deal of research supports the importance of parent, family, and community engagement to students' academic and social performance, and to the quality and performance of school health programs. The Healthy CPS Parent Engagement Project was created as a starting point for the Office of Student Health and Wellness (OSHW) to expand the impact of Healthy CPS from schools to parents. With funding support from The Illinois Prevention Research Center, this project sought to improve communications and content provided to parents to impact health and wellness behaviors within families.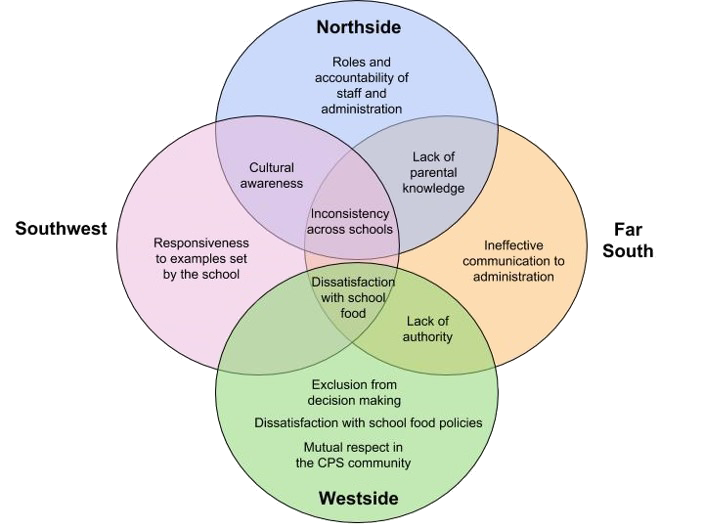 Specific goals of The Healthy CPS Parent Engagement Project
Understand current parent attitudes, opinions, and knowledge of Healthy CPS messaging around physical activity, healthy eating, and health literacy.
Discover whether existing health and wellness communication strategies are effective and identify other opportunities for communication to extend health and wellness behaviors to CPS students' homes.
Discover what topics and event structure would motivate parents and their peers to attend a health and wellness conference held by OSHW in the future.
A total of 40 CPS parents participated in discussion groups on the North, West, Far South, and Southwest sides of Chicago. Overall themes were identified from the field notes and voice recording transcriptions of thVenn diagram displaying the relationship among discussion themes by city area.ese discussions.
OSHW identified two major themes and one minor theme for each discussion group. The most common themes across groups included inconsistency in responses across schools and lack of knowledge among parents. These themes informed recommendations for OSHW and other relevant CPS departments.
Recommendations
Utilize community connections to disseminate information back to parents.
Leverage the power of in-person meetings and workshops.
Use multiple and personalized methods when communicating with parents.
Increase inclusion of parents in planning and decision making.
Consider parents' suggestions in future iterations of planning and programming.
OSHW plans to disseminate results to parents, incorporate parent feedback into office strategy, and plan a health and wellness conference, creating greater parent engagement with CPS. Parents who are more engaged may extend healthy messaging to the home and encourage their children to access school-based physical activity, nutritious foods, and health services. A comprehensive detailed report of findings is forthcoming.
* "Parent" as used in this post refers to a biological or adoptive parent, grandparent, or anyone serving as a guardian to a student.
ABOUT THE AUTHORS
Jamie Tully MS, MPH, Health Information Manager, CPS; Elizabeth Hansen MPH, Healthy CPS Analyst, CPS; Kayla Moore MPH(c), Research Assistant, CPS.
Modified on November 22, 2019