P3RC Research Assistant Wins Honorable Mention in the Master's Scholarly Public Health Practice Category at SPH Research and Scholarship Day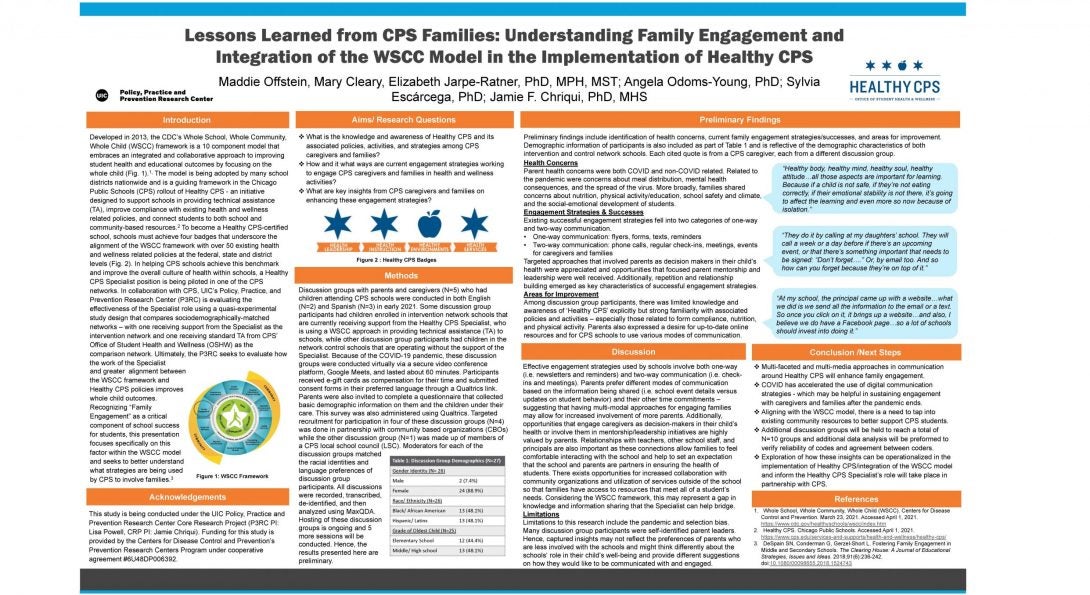 Maddie Offstein's poster focuses on methods of parent engagement in Chicago Public Schools
Maddie Offstein, a research assistant for the P3RC Core Research project, received an honorable mention in the Master's Scholarly Public Health Practice Competition at the 2nd virtual School of Public Health Research and Scholarship Day. Offstein's poster focuses on Chicago Public School's (CPS) engagement of families as a key component of Healthy CPS, which utilizes the Centers for Disease Control and Prevention's Whole School, Whole Community, Whole Child (WSCC) framework.  Learn more about this evaluation project at the Healthy CPS Network Initiative.
Working on this P3RC core research project has been an incredibly rewarding endeavor; learning how to rigorously engage with qualitative data and hearing the perspectives of CPS parents/caregivers on their role and the schools' in promoting the health and wellness of students have been invaluable experiences. It is my hope that translating their insights into actionable recommendations will inform the implementation of Healthy CPS and support the Specialist in their role in the coming years.

P3RC Core Research Project Research Assistant

|
Offstein is a 1st year MPH student in the Division of Health Policy and Administration. Her policy interests include health equity, disability rights, and health insurance reform. This summer, she will be remotely completing her Applied Practicum Experience with the National Council on Independent Living, the longest-running national cross-disability, grassroots organization, based in Washington D.C. Offstein graduated from Princeton University with honors and a degree in Ecology and Evolutionary Biology and Global Health Program Certificate. A fellowship opportunity brought her to Chicago to work at Sinai Community Institute, where she continues to work part-time as an interim program manager on a maternal child health pilot in partnership with the Chicago Department of Public Health.
View Offstein's poster as well as all other entries in the School of Public Health's 16th annual poster competition.
Modified on June 16, 2021