Para Nosotros, Por Nostros – By Us, For Us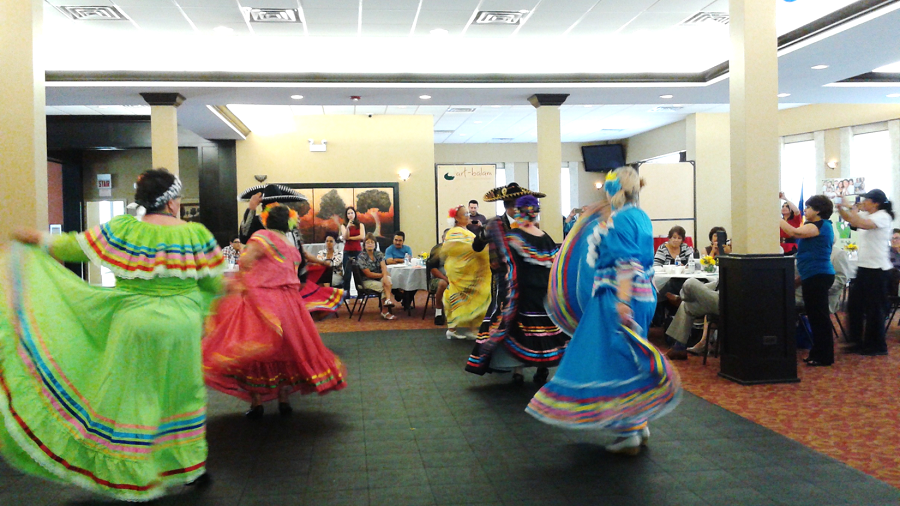 People often think of senior centers as places to play bingo.  We do sometimes play lotería, a sort of Mexican bingo, but not often. At the Pilsen Satellite Senior Center at Casa Maravilla—a public-private partnership of Alivio Medical Center, the City of Chicago, and The Resurrection Project – the focus is on activity and learning. The Pilsen Senior Center features several peer-led activities that allow seniors to continue to develop a sense of purpose.
All of the programming at the Pilsen Senior Center is based on important research that suggests a link between brain health, learning, and movement.
Music, singing, and dancing are always part of the programming. We feature several dance activities including traditional Mexican folkloric dance, Zumba® Gold, and the BAILAMOSTM dance program developed by Dr. David Marquez, principal investigator of the Illinois PRC Healthy Brain Research Network Collaborating Center. The BAILAMOSTM program was established as part of his ongoing research on cognitive functioning in older Latino adults in the Chicago community. You can also find meditation, Reiki—a type of alternative therapy, Bonsai sculpting, painting, and other activities for the soul. We recently had a memorable collaboration with LaBrocha, a project where older adults take part in art therapy. This collaboration was facilitated by Dr. Judith Rocha, another local scholar with an interest in the brain health of older Latinos.
English classes for our largely Spanish-speaking folks are a staple as well as computer instruction. Wellness activities include interactive presentations by Alivio nurses, nutritionists, pharmacists, and behavioral health providers about topics that are important to older adults.
Congregate meals served at lunch are a great way for our older adults to interact and break bread together. We celebrate birthdays and major holidays, especially those with Mexican origins, which include Día de los Reyes Magos, Cinco de Mayo, Mexican Independence Day, and Día de los Muertos. We encourage our community members to recall and/or learn about the significance of these beautiful cultural traditions.
Alivio's work with seniors and researchers enables us to provide evidence-based programming to enrich the lives of our community's senior population. This is especially important in the Pilsen neighborhood of Chicago where demographic shifts and gentrification are making the environment less comfortable for long-time Mexican immigrant residents.
About the Author. Susan Vega is the senior programs manager at the Alivio Medical Center where she develops and implements program initiatives for older adults in the Alivio Medical Center service area. The Alivio Medical Center is a Community Health Center/Federally Qualified Health Center serving Chicago's largely Latino communities in the near-southwest and southwest sides for more than 30 years.
About the Banner Image. Pilsen Senior Center residents engage in traditional folk dancing. 
Modified on November 06, 2020